We Promise
Waykar is committed to providing the best and high-quality products that users can truly feel
at home and building better lives in the process. Our confidence is demonstrated in several ways;



24 Hours Live Chat Support
Product Description
The world is full of smart gadgets, and Waykar dehumidifier is absolutely the cleverest one to know where you need them and when they need to work.
It is time to get yourself a new dehumidifier if you are chasing healthy air in your life, and sooner you can tell the difference.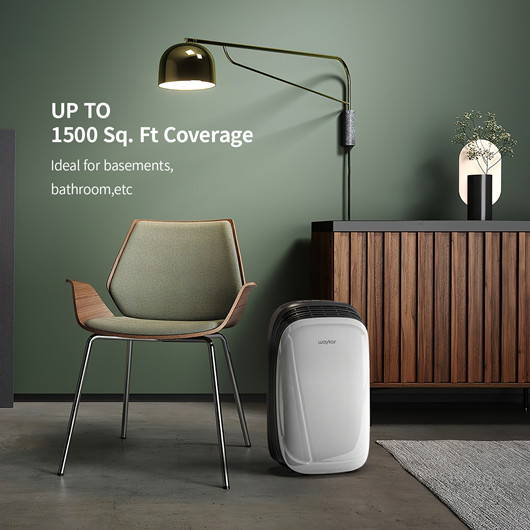 DEHUMIDIFIER FOR SPACES UP TO 1500 Sq. Ft- Our dehumidifiers are able to remove up to 30 pints (under 95°F,90%RH condition) of moisture per day. (Please note: under 95°F,90%RH condition, the max dehumidification capacity up to 30 pints) in areas up to 1500 Sq. Ft and adjust humidity from 30% to 80%.It is a dehumidifier ideal for any basements, office, home, bathroom, bedroom, kitchen, stockroom, living room, laundry room, cellars, crawlspace, large spaces/room, etc.

UNIQUE DESIGN FOR THE MODERN HOME- The Waykar dehumidifiers designed with sleek and modern look. With 360° rotatable wheels and ergonomically lift up handles, you can move around this portable dehumidifier easily. A quiet fan that won't disturb you when you sleep or at work, adjustable fan speeds for multiple choices. 24-hour Timer Setting for preset operation and reduced energy consumption.

INTELLIGENT TOUCH CONTROL- There is an intelligent screen touch control panel display on the smart dehumidifier, you can operate it easily. Humidity Auto Control: Simply adjust to your ideal moisture setting, it will smartly sense room humidity and control dehumidification to maintain pre-set humidity levels. Automatic Shut Off/On: Shuts off automatically when the bucket is full, and switch it on again after the bucket been emptied.

EASY TO USE: Auto Drain - The unit comes with a 6.56 feet drain hose that you can attached to the drain pipe hole to continually drain water that is dehumidified. Manual Drain - The water tank is 0.48 gallons/1.8 L, when it reaches maximum capacity, the "Full Tank "indicator will light up, the dehumidifier will automatically switch off until the tank has been emptied. Meanwhile, a reusable and washable filter preserves fresh and clean air quality.

SUPPORT- All of Waykar Dehumidifiers are covered with 30-Days Money Back if you are not satisfied with the product, 1 year warranty, 2nd year warranty extension and lifetime expert tech support. Please don't hesitate to contact us if there is any question, we will reply to you within 12 hours and help you solve the problems. Waykar customer support team is always just an-email away.
Best product with easiest operation
This unit contains every function that you need.
It has a display screen on the top of the machine with a digital-looking and intelligent touch panel which helps easy operation.
It also works super quietly with no interruption.
Meanwhile, if your clothes started to smell bad during humid weather, and the dryer would probably cause a higher electricity bill if running frequently.
Then Waykar is what you need - Portable, easy to move from room to room, and removes air moisture effectively.