We Promise
Waykar is committed to providing the best and high-quality products that users can truly feel
at home and building better lives in the process. Our confidence is demonstrated in several ways;



24 Hours Live Chat Support
Product Description
When people all around the world at this age pursuing a healthy life, they are eating healthy, drinking healthy, and excercising a lot.
But are they breathing healthy as well?
The answer remains unsure. If your indoor air started to feel havey and smells a bit musty,
it would meanthat your home is experiencing a high level of humidity. And it's time to get a dehumidifer.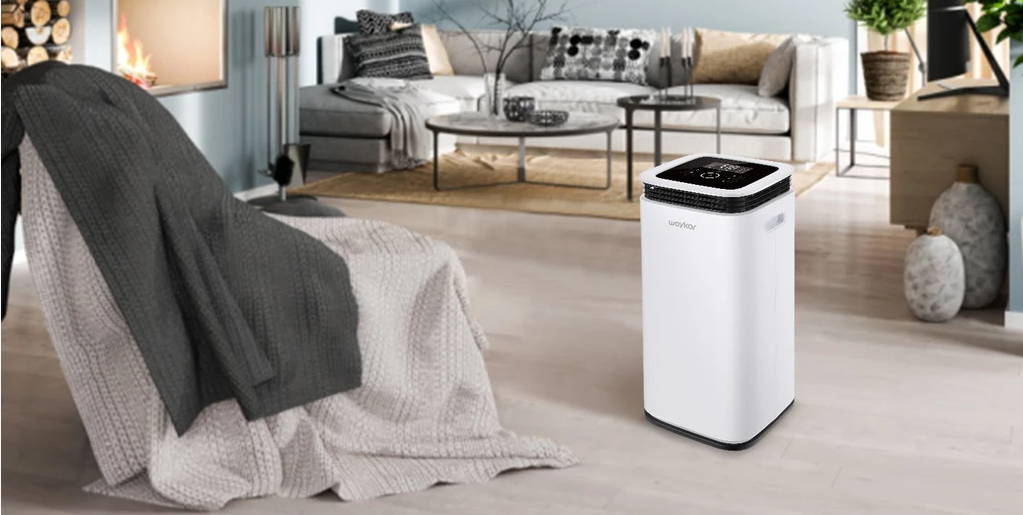 Product Details
DEHUMIDIFIER FOR SPACES UP TO 4500 SQ FT- Our dehumidifier are able to remove up to 70 pints (under 95°F,85%RH condition) of moisture per day. (Please note: under 95°F,85%RH condition, the max dehumidification capacity up to 70 pints)in areas up to 4,500 Sq. Ft and adjust humidity from 30% to 85%. It is a dehumidifier ideal for any basements, office, home, bathroom, bedroom, kitchen, stockroom, living room, laundry room, cellars, crawlspace, large spaces/room, etc..

UNIQUE DESIGN FOR THE MODERN HOME- The Waykar dehumidifiers designed with the sleek and modern look. With built-in wheels and ergonomically placed handles, you can move this dehumidifier easily. A quiet fan that won't disturb you when you sleep or at work, adjustable fan speeds for multiple choices. There are 4 air outlets in the four sides of dehumidifier instead of that in one side, with this design will improve the speed of dehumidify.

INTELLIGENT TOUCH CONTROL- There is an intelligent screen touch control panel display on the dehumidifier, you can operate it easily. Humidity Auto Control: Simply adjust to your ideal moisture setting, it will smartly sense room humidity and control dehumidification to maintain pre-set humidity levels. 24-hour Timer: For preset operation and reduced energy consumption. Automatic Shut Off/On: Shuts off automatically when the bucket is full, and switch it on again after the bucket been emptied.

DESIGNED WITH SAFETY IN MIND- Waykar dehumidifiers with functions of Safety Standby Mode that prevents overheating. Overflow Protection and Alarming Functions available if the water tank is full for extra security. Internal Components that are made of thermally resistant materials. Child-lock Setting and Sleep Mode function, you can press the "LOCK" button for 2 seconds to locked the dehumidifier, if there are children at home, parents will feel less worries that they will mess up the appliance.

SUPPORT- All of Waykar Dehumidifiers are covered with 30-Days Money Back if you are not satisfied with the product, 1 year warranty, 2nd year warranty extension and lifetime expert tech support. Please don't hesitate to contact us if there is any question, we will reply to you within 12 hours and help you solve the problems. Waykar customer support team is always just an-email away.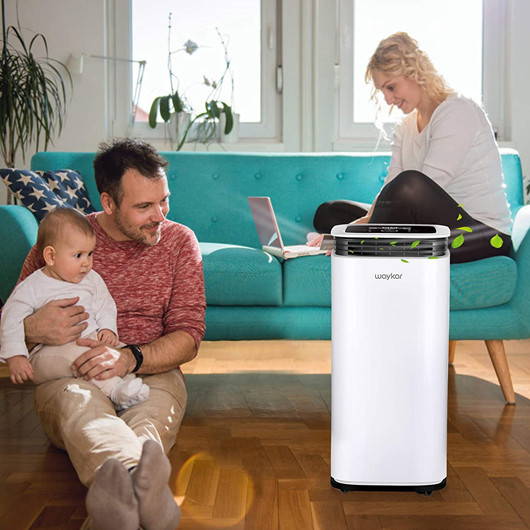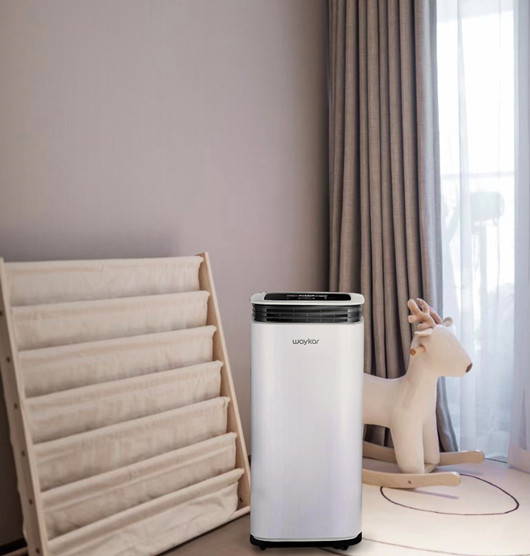 Unit That Born To Serve You
This is an ideal dehumidifier for any type of room with unique design of sleek and modern look. Also comes with built-in wheels and ergonomically placed handles which help you to move the unit conveniently from where you want to site it.Ultra-quiet setting with no disturbing and functioned with automatically adjustment when the indoor air reaches appropriate pre-set humid level. Best size with
large water tank with 1.18 gallons' capacity and designed with indicator to prevent overflow and series of potential danger like wet battery and battery loss.