We Promise
Waykar is committed to providing the best and high-quality products that users can truly feel
at home and building better lives in the process. Our confidence is demonstrated in several ways;



24 Hours Live Chat Support
Product Description
Nothing can ruin a home quite like damp. Causing mold, black spots, crumbling paint jobs, and many other unpleasant symptoms, that's why a dehumidifier comes in.
Using a dehumidifier is the most efficient way to combat excess moisture in the air. The correct dehumidifier will assist in turning your home into a comfortable area.
As Waykar believes, home is where you spend cherish time with your loved one.
Product Details
DEHUMIDIFIER FOR SPACES UP TO 1750 SQ FT- Our dehumidifiers are able to remove up to 34 pints (under 95°F,90%RH condition) of moisture per day. (Please note: under 95°F,90%RH condition,the max dehumidification capacity up to 34 pints) in areas up to 1750 Sq. Ft and adjust humidity from 30% to 85%.It is a dehumidifier ideal for any basements, office, home, bathroom, bedroom, kitchen, stockroom, living room, laundry room, cellars, crawlspace, large spaces/room, etc..

UNIQUE DESIGN FOR THE MODERN HOME- The Waykar dehumidifiers designed with the sleek and modern look. With built-in wheels and ergonomically placed handles, you can move this dehumidifier easily. A quiet fan that won't disturb you when you sleep or at work, adjustable fan speeds for multiple choices. There are 4 air outlets in the four sides of dehumidifier instead of that in one side, with this design will improve the speed of dehumidify.

INTELLIGENT TOUCH CONTROL- There is an intelligent screen touch control panel display on the dehumidifier, you can operate it easily. Humidity Auto Control: Simply adjust to your ideal moisture setting, it will smartly sense room humidity and control dehumidification to maintain pre-set humidity levels. 24-hour Timer: For preset operation and reduced energy consumption. Automatic Shut Off/On: Shuts off automatically when the bucket is full, and switch it on again after the bucket been emptied.

DESIGNED WITH SAFETY IN MIND- Waykar dehumidifiers with functions of Safety Standby Mode that prevents overheating. Overflow Protection and Alarming Functions available if the water tank is full for extra security. Internal Components that are made of thermally resistant materials. Child-lock Setting and Sleep Mode function, you can press the "LOCK" button for 2 seconds to locked the dehumidifier, if there are children at home, parents will feel less worries that they will mess up the appliance.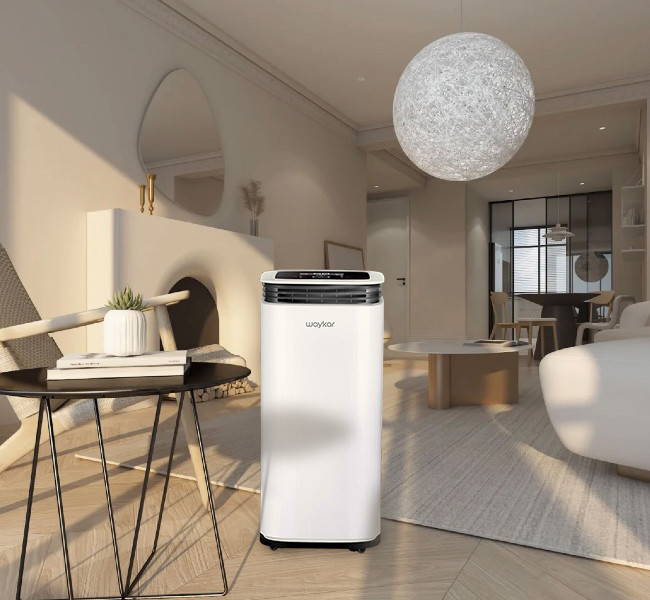 Washable Filters Save Your Money In The Long-Run
Over time, filters can build up a lot of dust and debris if not cleaning regularly.
It will affect not only the efficiency of your unit but also the quality of air it reproduces.
Waykar has an air filter that removes dust particles from the air before the air passes through the coils.
Our washable air filter helps keep the filter clean and ensures the air the unit product is qualified by either hosing them down or vacuuming.
And this product runs with a super low noise level which you might not even notice whether they are running.