We Promise
Waykar is committed to providing the best and high-quality products that users can truly feel
at home and building better lives in the process. Our confidence is demonstrated in several ways;


24 Hours Live Chat Support
Product Description
It is even more essential for business or factory owners to install a commercial dehumidifier to offer their employees and customers a comfortable environment.
No one likes humidity issues.
And if your working zone isn't comfortable, it can lead to productivity issues down the line.
Investing in a commercial dehumidifier can aid in creating comfortable surroundings for everyone.
At the same time to prevent potential problems that due to poor ventilation such as condensation and corrosion.
In short, a commercial dehumidifier is your solution!
Product Details
LARGE CAPACITY COMMERCIAL DEHUMIDIFIER-This commercial dehumidifier is with a high-efficiency compressor can remove up 130 pints water per day, suitable to use in large area, warehouse, grow room, basement, garage, cellar, workshop, library, laboratory and small factory, etc

INTELLIGENT CONTROL- Humidity Auto Control: Simply adjust to your ideal moisture setting, it will smartly sense room humidity and control dehumidification to maintain pre-set humidity levels. Automatic Shut Off/On: Shuts off automatically when the room humidity reaches the setting humidity and restart to working again when the humidity is above. Power Outage Auto Restart Function: It will restart automatically when power becomes available

PORTABLE DESIGN FOR LARGE SPACE- This is a portable dehumidifier designed with the sleek and modern look. With four universal casters and two ergonomically placed handles, you can move this dehumidifier easily in your area

CONTINUOUS AND MANUAL DRAINAGE - Auto Drain: This dehumidifier is included with a with 6.56 feet(2m) long drain hose. Simply connect with drain hose, it will continuous drainage by gravity, just set your desire humidity (10-90%RH) and it will automatically turn off when it reach the point. Manual Drain - When the 5L water tank has reached maximum capacity, the "Full Tank "indicator will light up, the dehumidifier will automatically switch off until the tank has been emptiedSUPPORT- This Waykar 130 Pint Dehumidifier Commercial Dehumidifier is covered with 30-Days Money Back if you are not satisfied with the product, 1 year warranty, 2nd year warranty extension and lifetime expert tech support. Please don't hesitate to contact us if there is any question, we will reply to you within 12 hours and help you solve the problems. Waykar customer support team is always just an-email away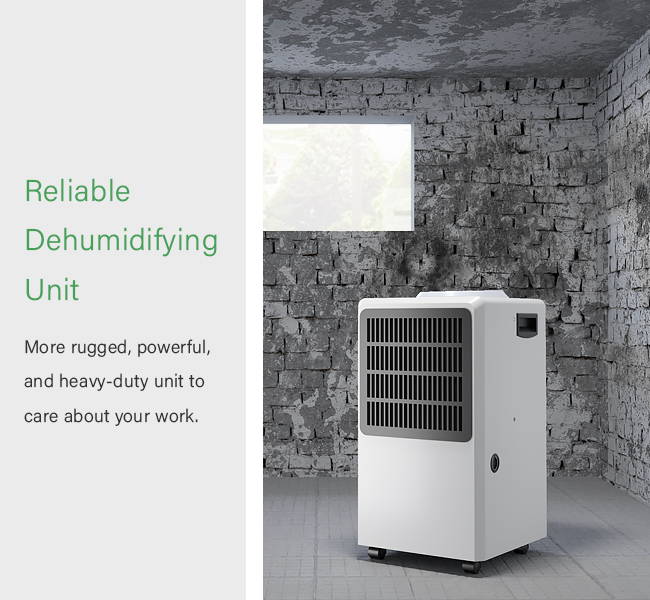 Multifunctional greatly benefit your business
Waykar commercial dehumidifiers consist of multiple impressive functions.
It has an efficient compressor and condenser that can extract water from the atmosphere.
Meanwhile, the compressor draws in the warm dampest air to passes it over to the refrigerated coil, and then condensation occurs to separate water from the air.
It also has a powerful fan to blow air and effectively reduces wind loss.
Suitable for places like a warehouse or small factory etc.